Motorola DROID Pro and DROID 2 Global hit the Verizon site
5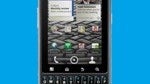 In case your weren't sure about which Android smartphone to get for Verizon, your choice just got a bit more difficult, as the
Motorola DROID Pro
and the
Motorola DROID 2 Global
are now listed for sale on the Verizon web site. Both are designed for the international traveler, as they can work on dual-band CDMA and EVDO within the US, and quad-band GSM and tri-band UMTS/HSPA while in other countries with a Verizon/Vodafone SIM card. The
DROID Pro
features a 3.1" 480x320 resolution display with a BlackBerry-styled QWERTY keyboard at the bottom, a 1GHz processor running Android 2.2, 5MP autofocus camera with 720p video recording, 2GB of internal memory and a pre-installed 2GB microSD memory card. Built-in security features, including AuthenTec IPSec multi-headed VPN integration, remote wipe of device and SD card and complex password support, with device and SD card encryption will be available in early 2011. Meanwhile, the
DROID 2 Global
comes in black and all-white color choices, something the iPhone 4 still can't accomplish, and has a faster 1.2GHz processor under the hood than the standard 1GHz processor used by the DROID Pro, DROID X, and DROID 2. There is also the sliding QWERTY keyboard, 5MP autofocus camera with 720p video recording, Android 2.2, 8GB of internal memory and a pre-installed 8GB microSDHC memory card.
The Motorola DROID PRO is avaliable for $179.99, while the Motorola DROID 2 Global in white or black is $199.99; after a $100 rebate with a 2-year contract. Are these enough to tempt you, or are you waiting for the
Samsung Continuum
to be released on the 11th?
source: Verizon Wireless:
Motorola DROID Pro
and
Motorola DROID 2 in white
and
black
.