Motorola DROID 2 Global GSM radio locked, case now with a camera bulge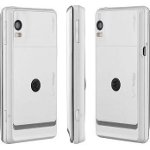 TheMotorola DROID 2 Global went quietly on sale onVerizon, but unfortunately the GSM bands of the dual-mode device arelocked down. Now that actually seems non-global for a dual-modeCDMA/GSM handset, but does not come unexpected. A future hack mightwork out a solution with another carrier's SIM card but for the timebeing this leaves us hanging in with Verizon.
The device also surprisingly has acamera bulge on the back of its case. This gives us some more roomfor thought. It could mean more space for a better sensor, radios orjust some kind of a design trick. In any case, it's there. For somebackground, let's mention that the DROID 2 Global is a global-ready(surprise) edition of the Motorola DROID 2. It offers faster speedswith its processor clocked at 1.2 GHz and all other goodies such as5MP camera, Wi-Fi and GPS on board. And finally, it comes in white,too. What else is there to want?
source: Engadget