Motorola CHARM dummy spotted in a T-Mobile store with a $269.99 no-contract price
This article contains unofficial information.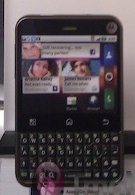 Despite being
delayed until August 25th
, the Motorola CHARM is still on target for a summer release – and just cutting close to that summer time frame. Nonetheless, it'll be here just in time for back to school where students fresh from a long break will be eager to possibly pick up this as part of their gear. While we're waiting until the day arrives, one T-Mobile store is already gearing up for the Motorola CHARM as a dummy unit was prominently showcased alongside its usual store display. One thing that's worth noting found on the store display was its $269.99 no-contract price – making it an extremely attractive option for those who don't want to be tethered down to a contract. Between now and then, we'd imagine that it would be feasible to save up that sum of money so you don't have to worry about signing a contract – which even looks more appealing when its 2-year contract price is $74.99. At this point, we've seen a great sum of Android smartphones this summer, but thankfully the CHARM might signal the last hurrah for Android's push for the summer.
Motorola CHARM Specifications
source:
TmoNews