Motorola ATRIX 4G and Motorola DROID BIONIC scorch the Android benchmarks
19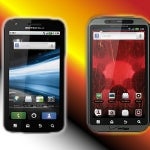 Motorola DROID BIONIC
and the
Motorola ATRIX 4G
have scored impressively in the Android Quadrant benchmark tests that was run on the dual-core handsets while on display at the CES show.
NVIDIA's Tegra 2
chipset might have the same graphics rendering capabilities as the current single-core king Samsung Hummingbird, but other platform elements like I/O speeds come into play in Quadrant as well.
Thus the Motorola ATRIX 4G has scored 2616 points on Quadrant, while Motorola DROID BIONIC nailed 2284 out of the box, without the test even been optimized for dual-core chipsets yet. Those are amazing scores for possibly non-final units, and the highest we've seen so far on stock handsets. And we thought the
HTC Thunderbolt
's
1926 score
was impressive.
For now the Motorola DROID BIONIC is shaping up to be the speed demon of the smartphone world, when you put together the dual-core chipset with Verizon's fast low-latency
4G network
.
source:
AndroidCentral
&
Engadget