Verizon's first 4G LTE devices coming in March, network expanding
24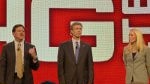 Verizon's press conference was mostly about Big Red's expanding 4G LTE network and no wonder why - it will transform the company's plans
and
phones. But when are the first devices coming out and can the company deliver the promised 5 to 12 Mpbs of data even on full load?
Let's start with the good news -
ten LTE-capable devices
are coming out by mid-2011 with some of them rolling out as soon as March. As to the speed of the network, Verizon assured us that even on
full load
it will deliver speeds of up to
12 Mbps
. With that said, we can only hope for faster launch of the
140 additional markets
for LTE that Big Red just announced! But don't worry if another carrier covers your area and you want to switch - Verizon hinted that SIM cards from other carriers will work on its devices, thus complying with
open access requirements
.
Unfortunately,
pricing
for future LTE plans remains an unknown. What we know is that there was a lot of mumbling and stuttering on the topic of data caps, so
problably
there will be some limitations on data usage. Verizon also touched on net neutrality mentioning that they will definitely prefer to have less talk with Washington. Luckily, most of the devices coming on Big Red's network will have mobile hotspot functionality, but tethering seemed to be an open question. Not much news on that, and the U.S. largest carrier was also vague on voice and data simultaneous support for voice and data. Come on, Verizon, don't torture us!
source:
Verizon