What is dual-core Tegra 2 and will it matter in my phone: gaming demo by NVIDIA
19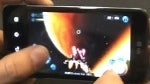 Last summer, when we were preparing our
extensive coverage
of the upcoming dual-core smartphone chipsets, NVIDIA's Tegra 2 seemed positioned best to surprise, but compared to the other underdogs, like Marvell and Freescale. Let's get this out of the way right now - Tegra 2 is not better than the upcoming dual-core SoCs from Qualcomm (
Snapdragon
), Samsung (Orion), or Texas Instruments (
OMAP4
).
When we dove in the white papers about the platform, we found out that despite all the technical hype about eight independent processors or offloading tasks to the second core, Tegra 2 was
capable
of achieving 140 hours of continuous audio on a standard 2000mAh battery, while the dual-core Qualcomm Snapdragons and Samsung Orion, as well as OMAP4 are achieving 120 hours, but from a 1000mAh battery. Not to mention the graphics department, where the
upcoming Samsung Orion
whoops Tegra 2 five times in terms of pure triangles per second count - theoretical 450 million for Orion, versus 90 million for Tegra 2.
Still, despite not being the most powerful dual-core chipset by design, NVIDIA had one huge advantage before the competition - its ARM-based silicon with two cores was ready maybe a year before the others started sampling or shipping to manufacturers. This enabled them
to sell around Tegra 2
, until they attracted the attention of
Motorola
,
LG
, and, ultimately, Google. Becoming the reference platform for Android 3.0 Honeycomb on the
Motorola XOOM
allowed NVIDIA to leapfrog Samsung and Qualcomm, and there is barely a high-end Android tablet now that won't be having Tegra 2 inside, with the notable exception of the 7"
Asus MeMO
, which, however, is not coming until June.
What's more, the reference platform status trickled NVIDIA's chipset into the most-advanced phones announced in the last two days as well. The
LG Optimus 2X
,
Motorola ATRIX 4G
, and
Motorola DROID BIONIC
all share the common Tegra 2 platform. The LG Optimus 2X was
announced last month
in Korea, which makes it the first modern dual-core phone to hit the market (Nokia had some dual-CPU phones before), while the Motorola ATRIX 4G for AT&T and Motorola DROID BIONIC for Verizon will be close second.
So what can dual-core
do for you
? Well, two cores have the power to process the huge amount of information coming from larger camera sensors than what we have now, up to 18MP. Not that you will need as many, but the additional horsepower also makes full HD video recording and playback in 1080p now possible with ease. However, if you ask us, HD video recording is already more than enough for everyday usage, and we have seen some pretty blurry videos, due to crappy camera sensors (cough,
Acer Liquid Metal
, cough), be they HD or not. Not to mention full HD will eat your internal or added storage in no time.
The added benefit will come when the software starts getting written from the ground up for fully utilizing two cores, especially for gaming and other intensive tasks. NVIDIA demoed yesterday for Engadget the gaming capabilities of Tegra 2 on an LG Optimus 2X and a Motorola ATRIX 4G (segway: is 3G becoming a dirty word?), and things look pretty
smooth
, although these games look smooth on the single-core
iPhone 4
as well, for example. Watch the video demo below.
What do you think - will the lack of dual-core prevent you from buying an otherwise perfectly capable device, or are you more inclined to wait and see what software and games get written for the two-core crowd, before you jump in?