Moto X Style vs Samsung Galaxy S6 vs LG G4: Specs comparison
17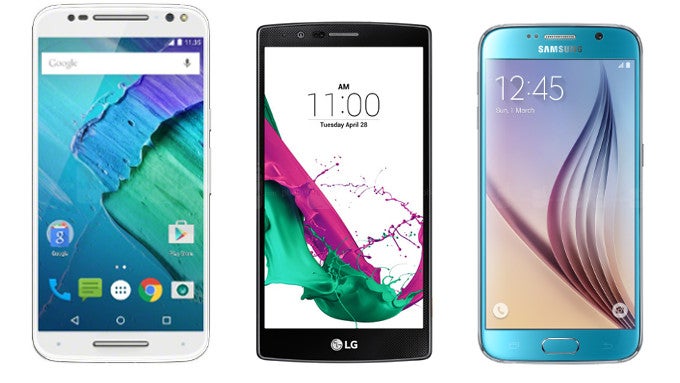 Well, folks, Motorola has
announced
its flagship for 2015 – the sleek-looking Moto X Style. The new handset made a huge jump in display size – from the 5.2" of the
Moto X (2014)
to 5.7" this year. To keep the resolution crisp, Motorola opted to go the QHD route, giving the phone a 1440 x 2560 resolution. The phone's hardware is, of course, also bumped up to stay on track with current tech trends – a 64-bit processor and 3 GB of RAM can be found under the hood.
Motorola made it a point to compare its new flagship to the
Samsung Galaxy S6
throughout the presentation. So, we figured, why not continue the trend and put up a quick specs comparison between the two. And, since we are doing this, we decided to throw in the
LG G4
as well – another popular flagship that totes the Snapdragon 808 SoC.
Looking at this comparison, it looks like the Moto X Style would be quite the bang-for-buck if our estimates are correct. Motorola announced that it'd be $200 - $300 cheaper than flagship devices from "companies like Apple and Samsung". So, we assume that the Moto X Style should cost somewhere around $400. See how it compares – what do you think?
Super AMOLED
IPS LCD
IPS LCD
Scratch-resistant glass, Ambient light sensor, Proximity sensor
Scratch-resistant glass, Ambient light sensor, Proximity sensor
Scratch-resistant glass, Ambient light sensor, Proximity sensor
Samsung Exynos 7 Octa 7420 (14 nm)
Qualcomm Snapdragon 808 MSM8992 (20 nm)
Qualcomm Snapdragon 808 MSM8992
Octa-core, 2100 MHz, ARM Cortex-A57 and ARM Cortex-A53, 64-bit
Hexa-core, 1800 MHz, ARM Cortex-A57 and ARM Cortex-A53, 64-bit
Hexa-core, 1800 MHz, ARM Cortex-A57 and ARM Cortex-A53, 64-bit
Mali-T760 MP8
Adreno 418
Adreno 418
128GB, not expandable
32GB
64GB
Android (7.0 Nougat, 6.0 Marshmallow, 5.1 Lollipop, 5.0 Lollipop), Samsung TouchWiz UI
Android (6.0 Marshmallow, 5.1 Lollipop), LG UX UI
Android (7.0 Nougat, 6.0 Marshmallow, 5.1 Lollipop)
Fast charging
Qualcomm Quick Charge 2.0
Qualcomm Quick Charge 2.0
18.50 hours
the

average

is 17 h (996 min)
23.00 hours
the

average

is 19 h (1110 min)
3G: 10 hours; LTE: 12 hours; Wi-Fi: 12 hours
Single camera
Single camera
Single camera
16 MP (OIS, Autofocus, BSI sensor)
16 MP (OIS, Laser autofocus)
Aperture size: F1.9; Focal length: 28 mm; Sensor size: 1/2.6"; Pixel size: 1.12 μm
Aperture size: F1.8; Focal length: 28 mm; Sensor size: 1/2.6"; Pixel size: 1.12 μm
Aperture size: F2.0; Focal length: 27 mm; Sensor size: 1/2.4"; Pixel size: 1.1 μm
3840x2160 (4K UHD) (30 fps), 1920x1080 (Full HD) (60 fps), 1280x720 (HD) (120 fps)
3840x2160 (4K UHD) (30 fps), 1920x1080 (Full HD) (30 fps), 1280x720 (HD) (120 fps)
3840x2160 (4K UHD) (30 fps), 1920x1080 (Full HD) (60 fps)
OIS, HDR, Continuous autofocus, Picture-taking during video recording, Video light, Video calling
OIS, Continuous autofocus, Picture-taking during video recording, Video light, Video calling, Video sharing
HDR, Continuous autofocus, EIS, Video calling
5 MP
8 MP
5 MP
2560x1440 (QHD) (30 fps)
1920x1080 (Full HD) (30 fps)
5.65 x 2.78 x 0.27 inches (143.4 x 70.5 x 6.8 mm)
5.86 x 3.00 x 0.39 inches (148.9 x 76.1 x 9.8 mm)
6.06 x 3.00 x 0.44 inches (153.9 x 76.2 x 11.06 mm)
4.87 oz (138.0 g)
the

average

is 6.5 oz (184 g)
5.47 oz (155.0 g)
the

average

is 6.5 oz (184 g)
6.31 oz (179.0 g)
the

average

is 6.5 oz (184 g)
Back: Glass; Frame: Aluminum
Back: Plastic
Back: Plastic
Notification light, Touch sensitive control keys
Notification light, Interchangeable covers