Motorola Moto X Style is announced: a stylish Android flagship at an exceptional price
67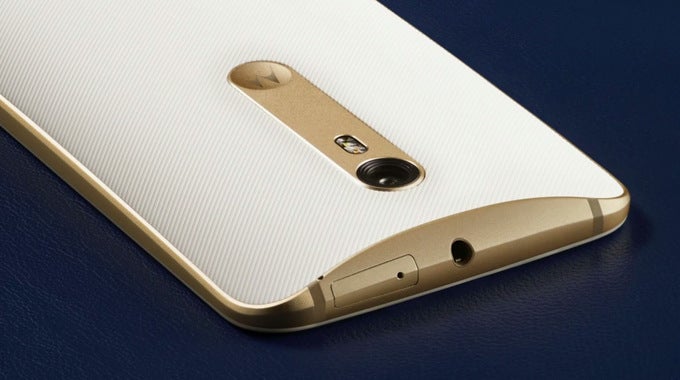 As if the day wasn't exciting enough, Motorola just took the wraps off its latest and greatest smartphones, among which is the Motorola Moto X Style. Here to succeed the 2014-edition Moto X, this new Android-powered Moto smartphone is built to impress with its exquisite design and customization flexibility, all while delivering a near-pure Lollipop experience at an exceptional price.
Design and display
In true Motorola fashion, personalization is one of the Moto X Style's key selling points. Buyers may tailor the phone's appearance to their liking via the Moto Maker service, which allows them to choose between a number of back plates, materials, and accent colors. The back cover, in particular, comes in a multitude of varieties, including several natural wood designs and premium genuine leather options. And for those who'd rather go for something a bit more colorful, Motorola is also offering the Moto X Style with a soft silicon rubber back. The material is treated to a special coating that prevents the bright, vivid colors from fading out over time, we're told. It must be pointed out that the Moto Maker service will be available in a limited number of markets, as usual.
While the phone is not entirely sealed against water ingress, the Moto X Style is designed to be splash-resistant. That's a rating of IP52, in case you're wondering. The two speakers at the front produce stereo sound when you're watching videos or listening to music.
Since it packs a large, 5.7-inch display, the Motorola Moto X Style isn't exactly small, but it isn't humongous either. As a matter of fact, it boasts one of the highest screen-to-size ratios in the industry – 76% of its front is occupied by the screen. Furthermore, the screen packs 1440 by 2560 pixels of resolution, commonly known as QHD – also an industry-leading figure. Like it or not, the screen is of the TFT LCD variety. Your guess as to why Motorola switched from AMOLED to LCD for its newest Moto X is as good as ours.
Processor, memory, software
Snapdragon 808, 3GB of RAM, 32 or 64GB of storage are packed inside the Moto X Style.
Inside the Motorola Moto X Style ticks a Qualcomm Snapdragon 808 SoC with a 1.8GHz maximum clock speed. Yup, turns out that the rumors of the phone packing an SD 810 were incorrect. But while not the fastest SoC in Qualcomm's stable, the Snapdragon 808 is still powerful enough to deliver a smooth experience, especially when it is accompanied by 3GB of RAM and with near-stock Android running on it. The SoC is backed by the so-called Natural Language Processor and Contextual Computing Processor, which enable some of the phone's unique, always-on gesture and voice interaction features.
The 32GB of built-in storage should be plenty for most users' needs, but for those who need extra gigs, a 64GB Moto X Style model will be available as well. And speaking of storage, we're glad to see that Motorola has added a microSD card slot to its Moto X line-up. This will let you add up to 128GB of storage to your Moto X Style.
In terms of software, the Motorola Moto X Style will ship running a near-stock version of Android 5.1 Lollipop. Goodies we know from previous Moto X generations, including Moto Voice, Moto Assist, Moto Display, and Moto Actions, are all baked in. Given the nature of the software, timely software updates are expected.
Camera
Turn the Moto X Style around and you'll find a 21MP camera with F2.0, phase-detection autofocus, and dual-tone LED flash. Motorola is bragging about equipping the Moto X Style with one of the best cameras it could source, and the images shown off during the phone's introduction did look impressive. The lack of optical image stabilization, however, is a tad disappointing. For those into videos, the Moto X Style captures standard and HDR footage at up to 4K resolution, as well as slow-motion videos.
On the front of the Moto X Style we see a 5MP front-facing camera backed up by... an LED flash. Yup, no more dark selfies! Plus, the wide-angle lens lets more of your buddies fit in the frame, while the f2.0 aperture and 1.4um pixels promise satisfactory low light performance.
Battery life
Motorola has equipped the Moto X Style with a 3000mAh battery, which is supposed to get us through a full day of mixed usage, according to the phone's maker. Better yet, the phone supports Motorola's Turbo Charging technology, which is claimed to be the fastest of its kind. Motorola estimates that 15 minutes of charging is enough to provide you with up to 10 hours of mixed usage. As long as the stock Turbo Charger is used, of course.
Price and release date
When can you get one? Motorola is going to launch the Moto X Style in September, although exact market availability dates might vary from one market to another. But in any case, the phone is going to be between $200 and $300 cheaper compared to flagship smartphones from Motorola's competitors. In the U.S., Motorola will launch the phone as the Moto X Style Pure Edition. Priced at $399, it will be unlocked and compatible with all four major U.S. carriers' networks.
source: Motorola