More info on T-Mobile's myTouch revealed; phone to feature T-Mobile T.V.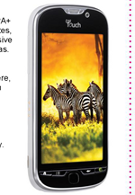 A leaked "fact sheet" for the T-Mobile myTouch reveals a ton of features that the device can handle. The pre-installed software includes Android 2.2, Adobe Flash Player 10.1 and Swype. The Front-Facing Camera allows the user to have video chats, but not just on Wi-Fi. The myTouch will allow you to enjoy a video conversation over T-Mobile's wireless network, as well.
T-Mobile T.V. will offer the user a number of live or on-demand programs. Some of the programming is free including ABC News Now, Fox Sports, PBS Kids, Disney, Univision and others. A 5MP camera on the back allows you to capture HD video at 720p. The phone comes with "Rock Band", "Monopoly" and "Asphalt 5" already loaded.
T-Mobile myTouch Specifications
source:
TmoNews