More info on T-Mobile's myTouch revealed; phone to feature T-Mobile T.V.
3

A leaked "fact sheet" for the T-Mobile myTouch reveals a ton of features that the device can handle. The pre-installed software includes Android 2.2, Adobe Flash Player 10.1 and Swype. The Front-Facing Camera allows the user to have video chats, but not just on Wi-Fi. The myTouch will allow you to enjoy a video conversation over T-Mobile's wireless network, as well.
T-Mobile T.V. will offer the user a number of live or on-demand programs. Some of the programming is free including ABC News Now, Fox Sports, PBS Kids, Disney, Univision and others. A 5MP camera on the back allows you to capture HD video at 720p. The phone comes with "Rock Band", "Monopoly" and "Asphalt 5" already loaded.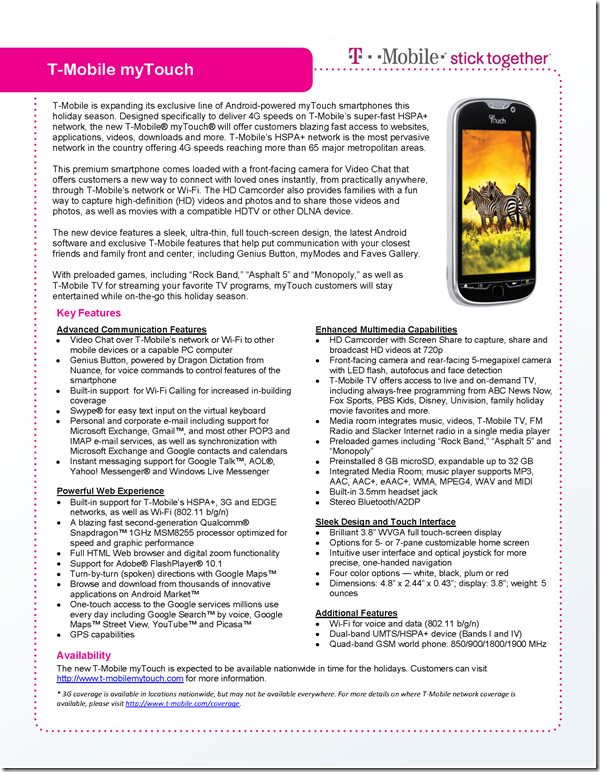 The T-Mobile myTouch is loaded with features
Under the hood, the T-Mobile myTouch is equipped with a second generation 1GHz Snapdragon and a 3.8 inch WVGA display. An optical joystick allows for precise one handed use. The unit will be available in white, black, plum or red and while no specific date was mentioned, the sheet says that the phone should be ready in time for the holidays. After seeing what the T-Mobile myTouch can do, this might be the year that you finally give in and get yourself a nice present.
T-Mobile myTouch Specifications
source:
TmoNews