Microsoft to make $80 Windows 10 Mobile phones, powered by Snapdragon 210
28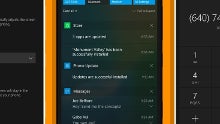 Microsoft is allegedly working on two low-end Windows 10 Mobile handsets that it plans to introduce in the $80 range or below, though it is hedging its bets by probing other potential makers for entry level Windows phones, too. These budget handsets are destined to take advantage of the burgeoning China market for LTE phones, which has increased several times just in the past year alone.
Being in this sub-$80 price bracket, the Windows 10 Mobile gear won't be a fully spec'd-out undertaking, of course, and is expected to be running on the MSM8909 Snapdragon 210 platform. Snapdragon 210 has four Cortex-A7 cores, clocked at 1.1 GHz, and Adreno 304 GPU, and comes with embedded Bluetooth 4.1 and 802.11n WiFi connectivity. Display resolutions up to 720p is supported, as well as 8-megapixel cameras, 1080p video capture and playback, and hardware H.265 encoding.
This being Qualcomm, the cellular modem has multi-band 3G and LTE, and the radio supports dual SIM configurations, these being for the Chinese market. The low-end Windows phones are expected to hit the conveyor belts in Q3, and be out and about in Q4, just in time for the end-of-the-year shopping craze.