Microsoft releases developer requirements for Windows Store – touch & gesture support mandatory
1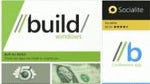 Microsoft has released some app requirements for developers looking to deploy their projects in the Windows Store for Windows 8 giving us a little peek into some of the things we can expect from the user experience.
First, all apps must support touch and gestures. Microsoft expands on this by specifying that users must have the ability to navigate "using only touch and gestures."
Secondly, the apps must provide the same user experience on all processor types. If that is not possible, due to the nature of the app, developers must submit a version for each CPU and specify the differences. This is due to the other requirement that users must be allowed to install a purchased app on up to five devices simultaneously.
Developers also must offer protection to their users against "unintentional large data transfers." Finally, Microsoft details that it will not offer a "cooling off" period to return apps due to accidental purchases, except in countries where it is required by law.
The Windows 8 beta is expected to launch in February 2012, where we will have the opportunity to see these new app requirements go into effect.
source:
SlashGear