Microsoft registers record Q1 revenue as its enterprise presence grows
11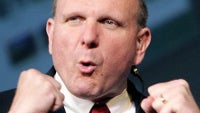 Microsoft might still struggle to get proper traction with its tablets and Windows Phone mobile operating system, but on the whole it is in great financial health. The Redmond-based company reported $18.53 billion in revenue for the quarter ending on September 30 and net income stood at the whopping $5.24 billion while operating income amounted to $6.33 billion. The revenue results are the best for Microsoft in its fiscal Q1 result history.
Microsoft is undergoing reorganization and to help better understand where the profits came from it broke down the results by departments as they would have looked under the previous structure.
All departments grew revenues. The Windows team scored $4.47 billion revenue in fiscal Q1, up from $3.24 in the same period last year. Business division grew to $5.99 billion from $5.5 billion and Entertainment and Services increased revenues slightly to $2 billion.
"Our new commercial services will help us continue to outgrow the enterprise market, and we are seeing lots of consumer excitement for Xbox One, Surface 2 and Surface Pro 2, and the full spectrum of Windows 8.1 and Windows Phone devices,"
Microsoft chief executive Steve Ballmer said.
Microsoft also stressed that its Surface tablet efforts are finally starting to see some success, especially with the Surface RT model that sold better than the Surface Pro.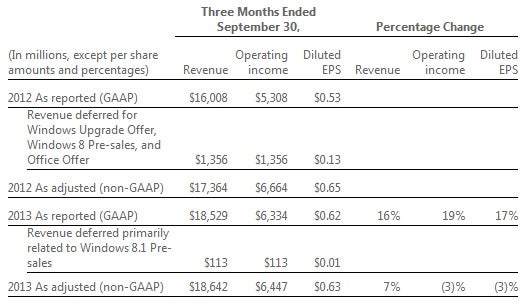 source:
Microsoft