Microsoft Translator app now available on Android and Android Wear
11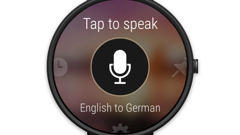 Microsoft today released a Translator app for Android devices and Android Wear smartwatches, thus increasing the ever-growing number of apps that it's offering to Android users. Available to download for free via Google Play, the new application can translate speech and text in no less than 50 different languages.
If you're using it on an Android smartphone or tablet, Microsoft Translator doesn't seem to be offering significant advantages over Google's own Translate app. However, the fact that Microsoft Translator is available on Android Wear is certainly a plus, as Google has yet to launch a Translate app for smartwatches.
The Microsoft Translator app provides both speaking, and written translations. The latter should be useful in noisy environments, especially since you can take advantage of full-screen "translation cards" to conveniently show others what you want to communicate.
Microsoft Translator should work on most devices running Android 4.3 or later. Will you be trying the app? If yes, let us know if you think it's a good addition to the Google Play catalogue.
source:
Google Play