Microsoft brings its SMS Organizer app to the US
4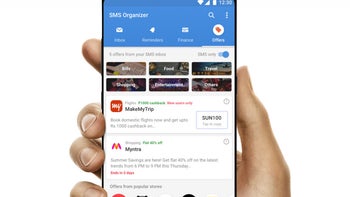 The SMS Organizer app is one of the many projects that took shape under Microsoft Garage's umbrella, but it's only been available in India since release. Starting this week, Microsoft has expanded the availability of SMS Organizer to more countries, including the US, UK, and Australia,
XDA Developers
reports.
As the name suggests, SMS Organizer will sort all your incoming text messages into categories. Microsoft's app is a bit more advanced when it comes to sorting text messages, as it uses machine learning to filter them into categories like personal, transaction, and promotional.
But the app goes even further and prevents promotional messages from popping up on your phone's screen. While you will find these on the promotional tab, you also have the option to automatically delete these messages every few days or weeks.
On the other hand, whenever you receive text messages related to trains, flights or payments, SMS Organizer will notify you every time and even helps you keep track of your account balance. More importantly, you can use SMS Organizer to backup and restore chats to and from Google Drive.
Unfortunately, SMS Organizer does not feature support for multimedia messaging (MMS), so it's limited to standard text messages. If you want to use the app, which is available for download via
Google Play Store
, you must register using your phone number.