Microsoft teases Minecraft AR game for smartphones, full reveal coming this month
1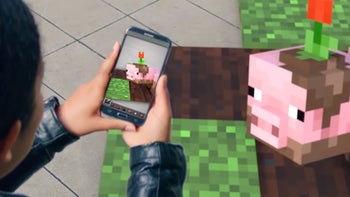 It's hard not to try and copy the success of
Pokemon GO
when you have a game like Minecraft that's at least just as popular as Nintendo's propriety. It appears that Microsoft has just discovered another potential golden goose, an augmented reality version of
Minecraft
.
The information isn't really official yet, but Microsoft teased a Minecraft mobile AR game during its Build 2019 keynote. The 1-minute teaser says it all, so the full reveal coming on May 17 is probably meant to iron out the details like when it will be available and if whether or not it will be free to play.
Also, it will be interesting to learn if Microsoft will launch the Minecraft AR game on both Android and iOS devices, and if yes, which platform will get it first. Granted Minecraft is already a big name in the gaming industry, an AR mobile game will breath new life in the franchise, and Microsoft is well aware that it needs to do this right.
As the tease says at the end, tune in on May 17 if you want to learn more about what's coming for the
Minecraft franchise
, we'll make sure to sum it up for you.