Microsoft Launcher's latest update brings Sticky Notes, To-Do integration, Cortana support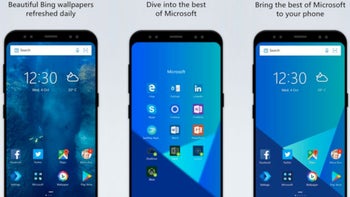 Just before Christmas, Microsoft has decided to offer those using its
Android launcher
a nice present in the form of a major update. The latest version of Microsoft Launcher adds integration with some of the Redmond-based company's other mobile apps like
Sticky Notes
and To-Do, but it also brings Cortana support.
For those of you who've been using the beta version of
Microsoft Launcher
, the latest update is nothing new since all the features and improvements announced recently are part of the previous beta build.
But just in case you're not running the beta version of Microsoft Launcher, here are the most important changes the new update adds to the Android app.
Track your screen time, app usage and phone unlocks with the new screen time card. You can even use the screen time widget to view this info on your home screen;
The Launcher To Do card now shows tasks from apps like Microsoft To Do, Outlook and Skype;
The Launcher Notes card now shows your Notes from Sticky Notes on Windows, Outlook, Cortana and OneNote mobile;
Cortana now has an updated card with support for commute/traffic and multi-commitments;
"Hey Cortana" is now enabled as a beta feature for the en-us market;
Cortana support is now available in the ES-ES market;
Bing mini-answers now shows you quick answers for stocks and currency in the Launcher Search bar.
Competition on the Android launcher market
is quite fierce, but Microsoft Launcher sits at more than 10 million downloads in the
Google Play Store
, so the developers must do something right. Still, some would argue that the Microsoft Launcher's overall design needs a refresh, but that might come sooner than we think.
For the time being, Microsoft has other improvements and new features on its agenda, so let's just enjoy them as they're being delivered in a nice and timely manner.
Recommended Stories