MetroPCS reports first quarter results, operating income rises 10% over last year
1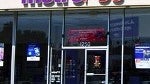 The nation's fifth largest carrier, MetroPCS, reported first quarter earnings on Wednesday
just hours after the company's shareholders voted to accept the merger with the nation's fourth largest carrier
, T-Mobile. Under terms of the deal, each MetroPCS shareholder gets $4.06 in cash, and altogether they will own 26% of the merged company. As the parent company of T-Mobile, Deutsche Telekom will own 74% of the combined outfit.
Meanwhile, MetroPCS reported that Q1 revenue came in at $1.3 billion, a gain of 1% over the top-line number tallied in 2012. Earnings before interest, taxes, depreciation and amortization, otherwise known as EBITDA, rose 11% year-over-year to $291 million. EBITDA margin came in at 26.4% for the period, up from the prior year's 22.6% and the average monthly invoice rose 40 cents from the 2012 period to $40.96. Operating income was reported as $108 million for the first quarter, which signified a gain of 10% from last year. At 2.9%, the pre-paid carrier set a record for the lowest quarterly churn in company history. 4G LTE subscribers now represent
39% of all MetroPCS customers
, which works out to more than 3.5 million customers. The company closed the first quarter with 9 million subscribers.
With the MetroPCS/T-Mobile deal scheduled to close on April 30th, this will be the last full quarterly report that MetroPCS will issue as an independent company.
source: MetroPCS
Recommended Stories