MetroPCS released 3G numbers, launched service in Michigan
7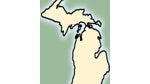 In addition to releasing their third quarter numbers, MetroPCS announced that they have launched operations in the Flint, Lansing, Saginaw and Bay City areas of Michigan. The carrier said that initially, it would open two company-owned locations in the area, but would have a presence in 89 dealer locations. It claims it had added 249,000 new customers, bringing the total customer count to five million.
Net income for the company dropped to $45 million in the quarter, down from the $53 million from a year prior. MetroPCS reported consolidated total revenues of $687 million, an increase of 23% over the third quarter of 2007. The carrier's average revenue per user totaled $40.42, a drop of $2.35 in comparison to 3Q 2007. According to it, the small drop was largely based on a result of customers moving to family plans, and the addition of once-separate features now being included in various plans.
Boston and New York will launch in 2009; MetroPCS hopes to have 40 million people covered by the end of 2010.
source:
RCR Wireless