Metro Icon Pack gifts 600 Metro-styled icon templates to devs
2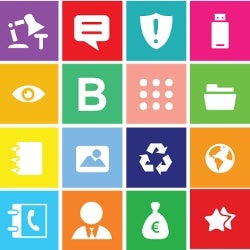 If you're a developer on Windows Phone, you probably already realize well the importance of icons and typography in the Metro UI. Basically, your apps start with the Live Tile icon and are defined by the typography, the two pillars of the user experience.
That's why the
Metro Icon Pack
for Windows Phone with its 600 customizable icon templates would be a welcome addition in many developers' tool arsenal. 600 icons might sound like a lot, but with so many apps out there, it's the possibility to customize every single icon that allows you to give your applications a personal flavor.
We should also note that the Metro Icon Pack comes with royalty-free iconography. The developer of the SyncFusion collection promises more icons along the way. Hit the source link below to get the set of icons for free. It should be worth it - after all the developer says this is a $499 value you get for zero and there's no catch.