MediaTek to benefit as Chinese white-box tablet makers make more slates with phone capabilities
5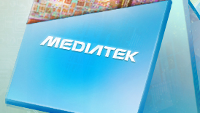 A report published on Thursday morning states that Taiwan based silicon slinger MediaTek, will benefit greatly from a new trend in China. In the latter country, white-box tablet manufacturers are beginning to outfit their slates with the capability to make phone calls. This is something that has been picking up steam since the first quarter. One report forecasts that more than half of the unbranded slabs offered in China during the second half of this year, will be able to make and take phone calls right out of the (white) box.
Entry-level smartphone chips made by MediaTek such as the MT6572, MT6575 and MT6577, are being used by white-box tablet manufacturers. The report says that these tablet producers are able to bypass paying a licensing fee to MediaTek by using independent design houses, who purchase the smartphone technology for the tablets through unofficial means.
MediaTek is benefiting from the demand for its chips from the white-box tablet industry. Specifically, demand is rising for MediaTek's highly integrated chips that combine the applications processor, and the baseband chip. Using these integrated solutions, it is believed that manufacturers producing white-box tablets with phone capabilities, can reduce greatly their development time. For 2014, it is expected that MediaTek's APs will own 25% market share among the white-box tablet manufacturers, up 10 percentage points over last year's figure.
source:
DigiTimes