The AirPods battery life finally met its match, at a Master & Dynamic price
7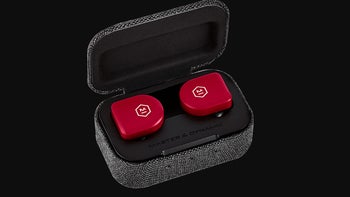 The current AirPods with a wireless charging case, always-on Siri, and H1 processor, may be sold alongside a spring model that is rumored to be water-resistant and with noise-cancelling features.
That could only mean one thing - higher price for the
AirPods 2
model which may sport a different design given that its main added value is expected to be the noise cancellation feature. Apple's AirPods are the most popular true wireless buds for a reason, and, besides the branding, their main draw is easy pairing, and the superior 6 hours of battery life at mid-volume.
Recently, Sony came out swinging with the humbly named
WF-1000XM3
wireless buds that are rated for the same 6-hour endurance, and already feature noise-cancellation but come with a $230 price tag.
What if we told you that someone managed to make true wireless buds that last 10 hours on a charge, and cost $199. Or that this someone is not some no-name Chinese warrior trying to make a living?
The new
MW07 GO
model from Master&Dynamic is a stripped-down version of the audiophile-grade MW07 Plus, lacking the active noise cancellation and ambient sound mode found on their more expensive siblings from the brand.
The GO set, however, almost doubles the battery life on a charge over the AirPods or the Sony WF-1000XM3. In addition, it is built for workouts, out of durable performance composite used in sport eyewear, and now feature IPX6-grade water resistance.
The charging case may not have any fancy wireless charging abilities, but it delivers another 10-hour charge to your MW07 GO pair, and even has two more hours of charge to spare should you kill that in a 24-hour span as well. The fast-charging battery is able to take in 5 hours worth of listening for only 15 minutes of charging, and the 10-hour endurance is reached with just 40 minutes in the case.
Master & Dynamic MW07 GO price, release date and colors
In addition, large 10mm Beryllium drivers take care of the sound part, while Bluetooth 5.0 connectivity ensures easier pairing and a more stable wireless link to the phone in your pocket or the laptop on your sofa.
You can pre-order the GO set now, in Flame Red, Electric Blue, Jet Black and Stone Grey, and get it delivered for the October 24 release date, any takers?