M-I-C, see the Disney Channel streaming on your smartphone or tablet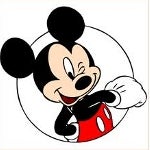 view ESPN on their mobile device
using the "WatchESPN app," Disney is spreading out and as soon as next week, will offer a
streaming version of the Disney Channel for mobile device users
. At first, the service will be available only for Comcast subscribers who would be "authenticated" to view the streaming video through their Comcast cable television subscription. Disney CEO Robert Iger selected Comcast to be the first to offer the service to its subscribers because of as new 10-year deal reached in January between the cable distributor and Disney. The latter's cable properties include the Disney Channel, Disney Family, all of the ESPN programming and more. Disney also hinted that it would offer streaming services for some of its other properties such as the Disney Family Channel and ABC.
The cable industry is relying on these streaming apps as a way to
keep subscribers who use their mobile device for much of their television viewing
. The industry refers to the service as "TV everywhere". The WatchESPN app was started for Time Warner Cable viewers and when 22 million Comcast subscribers were added, it brought the number of potential users of the app to the aforementioned 40 million figure.
source:
ChicagoTribune
via
FierceMobile