WatchESPN app now streaming ESPN to Android devices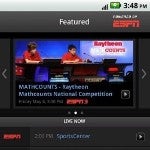 Dah dah dah, dah dah dah...the ESPN theme song can now be heard on Android devices throughout the land as the WatchESPN app becomes available for Android after already making its appearance on the Apple iPhone. One important caveat-you must be a subscriber to an ESPNNetworks enabled provider which means if you are a subscriber to Time Warner Cable, Bright House or Verizon FiOS TV, you can receive ESPN, ESPN2, ESPN3 and ESPNU streamed to your Android handset. When the appropriate season starts, ESPN's Buzzer Beater and Goal Line will also be included. If you subscribe to FIOS Internet only, you can watch just ESPN3. All others are locked out-on the bench-unable to play.
The app is available for free in the Android Market for phones loaded with Android 2.2 or higher.
source: ESPN via
Engadget