Like Bluetooth keyboards? Check out this compact concept and help them launch it
3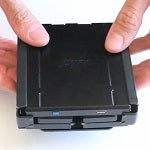 Fold this kit up and put it in your pocket! That is how this design rolls. Meet Jorno, the Bluetooth keyboard that folds up and literally fits in the palm of your hand.
Bluetooth keyboards can be hit-or-miss with many users, either they are optimized to be part of a tablet's protective case, or they are not easily stowed for fear of them breaking. Then there is the build quality, some are rubberized with unsatisfying tactile feedback or force you to work too close to your device. The Jorno appears to address all of these issues. The battery of the Jorno lasts for up to one month on a charge and has a built in stand to prop up your mobile device. While the stand may be detached from the keyboard if you need some space, the stand itself is part of the folding mechanism too.
The Jorno is expected to cost about $120 at retail, but if you help them with their Kickstarter campaign, depending on the contribution, you will be able to pick up a keyboard for far less. In addition to the QWERTY layout, they will have QWERTZ and AZERTY layouts available as well. If they get funded, devices will be available in the spring of 2013.
source:
Jorno Kickstarter page
and
Jorno