Lenovo's Phab 2 Pro launches Nov 1st, Google's Tango AR platform is ready for its debut
9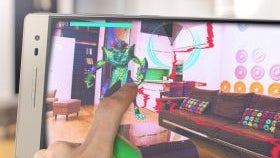 Google has been working on a few interesting projects for a while now, and it looks like the company is starting to get these new ideas into customers' hands. Following a successful commercial debut of the Pixel smartphone series, Google is finally ready to launch its first (Project) Tango device, the Lenovo Phab 2 Pro. The device will launch in the United States next week on November 1st and will be available for purchase unlocked at a price of $499.
The Lenovo Phab 2 Pro was shown on stage at the 2016 edition of MWC in Barcelona back in March. At the time, Lenovo said that the Phab 2 Pro will launch in the summer, but as that didn't come to pass, the device was recently confirmed to be delayed until at some point in November. That point has been now set for the first of the month.
Tango, formerly Project Tango, is a 3D positioning platform that can create a map of your surroundings. It represents Google's best bet in the emerging augmented reality (AR) niche and one of the most promising AR platforms overall. From what we can tell, the Lenovo Phab 2 Pro will land with demo software such as an app that allows users to virtually overlay works of art in their living room and one that creates 3D alien planet experiences and renders them on top of the physical world.
Here is a sneak-peak at the AR features that Lenovo demoed on stage back as MWC 2016:


At this point, it remains to be seen if Tango will become a primary destination for developers looking to create AR content. Despite Tango's enormous potential, Google has yet to lock in its success in the AR space.

As far as the hardware is concerned, the Lenovo Phab 2 Pro comes with a 6.4-inch LCD running at 2560 by 1440 pixels, a Qualcomm Snapdragon 652 chipset, and 4GB of RAM. Note, however, that the Phab 2 Pro isn't your run-of-the-mill Android slab. Helping Project Tango are a special camera system (which includes a 16MP primary sensor on the back) as well as a custom GPU.