Lenovo IdeaPad K1 Hands-on
1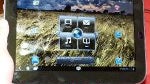 If you're heart isn't content with the entry-level nature of the Lenovo IdeaPad A1, then you might be interested in the Lenovo's significantly more powerful table that's targeting the enterprise audience – the
Lenovo IdeaPad K1
. Sporting a
$479.99
price point, this 10.1" tablet is refined to appease the needs of
business users
– especially when optional accessories like a keyboard dock and stylus are available.
Picking up the tablet for the first time, we're instantly pinned down by its
weighty
feel, which tips the scale at 27.2 oz (771 grams). Combining a touch plastic shell with a metallic bezel, it does offer some peace of mind as a
solidly constructed
tablet – however, it doesn't try to attempt to keep things streamlined like the Samsung Galaxy Tab 10.1. Still, we love that it flaunts a nice textured design with its rear cover, which allows for an adequate amount of grip when held. Overall, its design might not be a trendsetter like some of its rivals, but nevertheless it's nice to see Lenovo putting a lot of effort into it.
Some of its features include a 10.1" display with a resolution of 1280 x 800, 1GHz dual-core NVIDIA dual-core Tegra 2 processor, 1GB of DDR2 RAM, 5-megapixel rear camera, 2-megapixel front facing camera, full sized USB port, and Android 3.1 Honeycomb. For the short time playing with the tablet, it's clearly evident that Lenovo sprinkled a little bit of personalization as the system bar has a slight different look to it – not to mention the various new widgets on display as well.