Monthly Pixel update exterminates some annoying bugs
36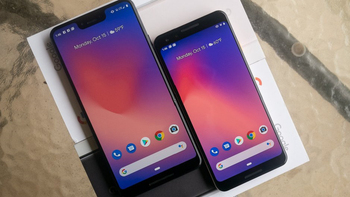 If it's a new month, then it is time to update your Google Pixel handset. And yes, that includes the new
Pixel 3a
and
Pixel 3a XL
.
According to the June 2019 Pixel Update Bulletin
, the new Android security patch will be dated June 5th, 2019. There are also a number of "functional" patches that are part of the update; these exterminate some bugs that have affected Pixel users.
For example, the June update will fix an issue with the bootloader on the
Pixel 2
that causes some units to freeze while in the process of booting up. Some
Pixel 3
and
Pixel 3 XL
users have had the camera on their phone crash while recording video. This should stop happening after the update is installed. Another problem now being addressed is one on the
Pixel 2
,
Pixel 2 XL
,
Pixel 3
and
Pixel 3 XL
that causes Netflix to "hang." And how can you binge watch the new Netflix hit
Dead to Me
(renewed today for a second season) if your Netflix app is hanging? Lastly, those with the same exact models should notice an improvement when saying the "Ok Google" hotword. The update should make it easier to summon the
Google Assistant
without having to repeat the hotword a number of times.
The latest Android Security Bulletin
lists 11 issues that are addressed by the monthly security patch. Of these, there were six determined by Google to be "Critical" while the remaining five were ranked "high" in terms of severity. If you're a Pixel user, you can update your phone by going to
Settings
>
System
>
Advanced
>
System update
. Before you start the updating process, make sure that your handset is connected to a Wi-Fi signal (to save data charges) and has a fully charged battery.