LG's transparent Firefox OS Fx0 phone gets caught on video
11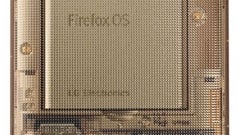 Last week, Mozilla and KDDI announced Japan's first Firefox-based smartphone -
the Fx0
, a handset manufactured by LG. What's special about the Fx0 is its design: the device comes with a transparent shell that allows us to see its innards.
Needles to say, the Fx0 is not the type of smartphone that you get to see too often, though its design will certainly not appeal to everyone. If you're among those who want to take a better look at the LG Fx0, check out the hands-on video embedded below. The video also provides a quick look at Firefox OS 2.0.
The designer of the Fx0 made its shell transparent in order to emphasize Mozilla's commitment to openness. The smartphone itself is not a high-end one, although it offers the most advanced specs of any Firefox handset to date, including: a 4.7-inch display with 720 x 1280 pixels, LTE connectivity, 8 MP rear camera, quad-core Snapdragon 400 processor, 1.5 GB of RAM, and 16 GB of expandable storage space.
The Fx0 won't be sold outside Japan (where it costs about $410), though maybe LG wants to launch similar handsets in other parts of the world. We'll let you know if we hear more about this.
Recommended Stories