The LG-made Firefox OS Fx0 phone is transparent and all kinds of geeky, but you can't get it
13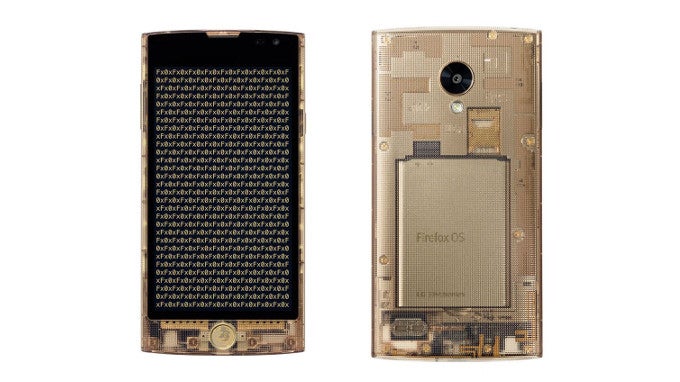 Earlier today, Japanese carrier KDDI announced the first Firefox OS-based smartphone in Japan – the LG-made Fx0.
According to Mozilla Corporation, which is responsible for the wildly unpopular operating system, the Fx0 is the most spec'd out phone there is with its OS, though truthfully, they are actually quite underwhelming compared to even upper mid-range Android devices. Thankfully, the Fx0 makes up for that partially by offering a very unique design with a transparent shell and a home button decorated with the Firefox logo. From what we're told, the see-through design by Tokujin Yoshioka is meant to symbolize Mozilla's mission for openness and transparency. Interestingly enough, despite that claim, the Fx0 is still held together by non-standard screws, which does go against the spirit of that statement a bit.
Anyways, hardware-wise, we're looking at a 4.7-inch, 720 x 1280 pixel resolution screen (312 ppi), powered by an LTE-enabled, quad-core Qualcomm Snapdragon 400 chipset with four 1.2GHz Krait 300 cores and an Adreno 306 GPU, along with 1.5GB of RAM. There's an 8-megapixel snapper at the back and a 2.1-megapixel selfie cam at the front, both of which are of unknown make. The phone is kind of chunky, with dimensions of 5.47 x 2.76 x 0.41 in (139 x 70 x 10.5 mm), and a weight of 5.22 oz (148 g). The rest of the specs include 16GB of internal storage (expandable through microSD for up to 64 gigs more), a 2,370 mAh battery, and Firefox OS 2.0.
The Fx0 only comes in gold color and costs the equivalent of $416 (¥50,000), so it won't be that easy a sell – even in Japan, where handsets are typically more expensive than in other parts of the world. If you had the opportunity, would you grab one?