LG's T-Mobile G2x officially announced: dual-core 4G powerhouse coming with Tegra Zone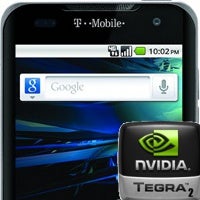 Don't say we didn't warn you – the T-Mobile G2x, a rebranded LG Optimus 2X of a kind,is finally official and will hit T-Mobile in its full 1GHzdual-core Tegra 2 beauty this spring. The G2x will bring apure Froyo experience spiced up with support for the carrier's 4GHSPA+ network. And if you're not yet convinced in the entertainingcapabilities of the G2x, T-Mobile has pre-loaded Need for Speed ShiftHD, T-Mobile TV and Qik. A 4-inch touchscreen and an8-megapixel camera complement the experience, but you wouldn't knowhow these perform unless you check out our in-depth review of the LG Optimus 2X.
The handset will also be the firstpre-loaded with the dedicated Tegra Zone showing you all thetailor-made games making use of those two cores. Not much of abenefit as it should be available for free on the Android Market, but hey, one more app wouldn't hurt! No priceon the G2x yet, but with rumors circulating around an April 20th launch, we're sure to hear more about it soon.
source: T-Mobile