LG's Quick Cover protects your LG Optimus G Pro
8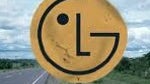 If the Samsung Flip Covers had a doppleganger, it would be the new
LG Quick Covers
designed to cover the
LG Optimus G Pro
. Thanks to the strategically placed magnets, the Quick Cover turns off the phone while the cover is being closed, and turns it on when the cover is being lifted. The flap protects the 5.5 inch display on the handset and the back replaces the rear cover of the device which is just the way Sammy's Flip Cover works.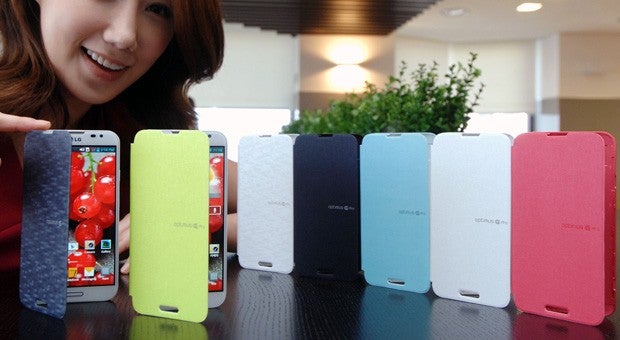 LG Quick Cover for the LG Optimus G Pro
In case you were worried, the Quick Cover will not interfere with the NFC capabilities of the LG Optimus G Pro and wireless charging is not affected. What is affected is the weight of your wallet which will be lighter by 43,000 won ($40 USD) when you purchase one of the covers with a solid color from an online store or physical retail location in South Korea. Patterns will cost you 39,000 won ($36). Right now, this is just for South Korea and there is no word if or when we will see these roll out globally. It would help to have the phone launch globally first. The
LG Optimus G Pro is expected to touch down in the U.S. during the second quarter
which begins next month.
source:
LG
,
AndroidAuthority
via
Engadget
LG Electronics, the cover is opened, the screen automatically turns on 'Optimus G Pro' only 'quick cover (Quick Cover ™)' release.

Cover the "quick cover" the screen is turned on and off, open and closing, depending on the behavior. Magnet magnetic material (quick cover) recognize the principle that the behavior of semiconductor devices mounted on the 'Optimus Pro was applied.

Quick Cover Case LG Electronics NFC (Near Field Communication) and wireless charging capability enhances ease to mount.

Applied sleek materials 'quick' on the cover of 'reflection process' even raised the premium image. 'Reflection' method 'Optimus G' debuted at viewing angle, depending on the angle of the light image shows a different design,

Quick cover of the current color for sale Indigo Black, Pink Blossom, crystal blue sensation lime, in addition to Platinum White to be added later this month, is expected. G Market, Auction, 11 Avenue, Blu-Coming Soon offline and online shopping malls and stores in the 'cover' quick sale, and the price is $ 43,000.

General digital cube pattern cover Citi Shiny Black and White Paper was launched, the price is 39,000 won.

LG Electronics MC Business Division, Product Planning group at gwonbongseok nil "to our customers in order to provide a truly smart lifestyle organically connected smartphones and attentive to the environment," he said.