LG will reportedly unveil the G4 Pro/Note on October 10, expect removable battery and plastic build
26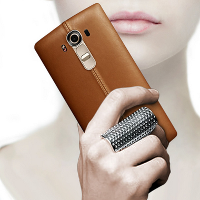 According to new reports from South Korea, the LG G4 Note/Pro will be officially unveiled on the 10th of October, and will share many of the hardware specs and characteristics that LG debuted on the LG G4.
With the LG G4 already out since April and the holiday shopping season just around the corner, there has been
a lot of talk lately
about an LG G4-derived phablet. In fact, LG officials
confirmed on a couple of occasions
that the company is getting ready to launch a new high-end smartphone, and just last week, LG's Cho Juno confirmed that the company's next high-end smartphone will be unveiled at some point in Q4 2015.
Earlier today, a couple of distinct reports claiming to reveal details about the handset emerged in LG's home market of South Korea.
According to one of the reports, the LG G4 Note/Pro will be officially unveiled at a special press conference on October 10th. This date lines up well with the confirmed unveiling timeframe, as the fourth quarter starts on October 1st, and it would make a lot of sense for LG to try to give its new high-end phablet a few months before the December shopping frenzy.
The other report claims that the LG G4 Note will share many of the characteristics of the standard LG G4. Included here are a plastic build, a removable battery, back-mounted volume and power buttons, as well as a display with a resolution of 1440 by 2560 pixels. As far as the improvements are concerned, the LG G4 Note is said to come with a dual-camera setup that would bring better depth perception. The LG G4 is one of the best smartphones around as far as the primary camera quality is concerned, and any improvement will certainly please smartphone photography enthusiasts. Early rumors claimed that the LG G4 Pro/Note will bring a metal build, but given that LG backtracked on its original "super-premium" claims regarding the upcoming handset, a plastic build does seem more likely.
Update:
The LG G4 Note was recently spotted in the TENAA database. The photos confirm a
removable back cover and reveal a metallic frame
.
One detail that's currently missing from the puzzle - or at least the puzzle as unofficial reports paint it - is the chipset of choice. LG previously went for the hexa-core Snapdragon 808 with the original G4, but several sources claim that the LG G4 Pro will come with an improved chipset. Since Q4 2015 is probably too early to hope for a Snapdragon 820, the often-criticized Snapdragon 810 might turn out to be the chip that powers LG's upcoming phablet.