LG Stylo 5 vs. Stylo 4 - specs comparison
8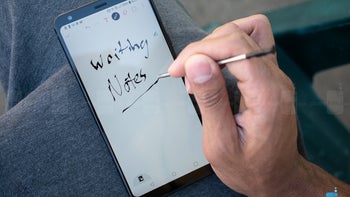 After making its
official debut
last week, the
LG Stylo 5
is currently being sold in the US by Cricket Wireless for $229, and by Boost Mobile for $200. The Stylo 5 is a very interesting affordable smartphone, as it features a built-in stylus pen with complementary software tricks - something that, at the moment, only Samsung's high-end and expensive Galaxy Note line is also offering.
The LG Stylo 5 is arguably a pretty good handset for its price class, but we're a bit disappointed by its specs, as there is little to differentiate this 2019 phone from last year's
LG Stylo 4
(pictured above). The Stylo 5 has a similar display and the very same not-super-powerful processor that's found in its predecessor. The amounts of RAM and storage space have also remained unchanged, there are no significant camera upgrades, while the overall design isn't much of an update either.
The Stylo 5 does pack a larger battery (3,500 mAh vs. 3,300 mAh on the Stylo 4), but, for now, we can't say if those extra 200 mAh bring any perceivable increase in battery life. Another thing that's new is the software - we get Android 9 Pie on the Stylo 5, while the Stylo 4 still runs Android 8 Oreo (although it should be updated to Pie at some point).
A full specs comparison between the LG Stylo 5 and LG Stylo 4 can be found below.
In case you are wondering, it's likely that the LG Stylo 5 will be soon released on at least one major US carrier. We'll let you know when we find out more about this. Meanwhile, feel free to tell us what you think about LG's new stylus-equipped smartphone in the comments section!
Ambient light sensor, Proximity sensor
Ambient light sensor, Proximity sensor
Qualcomm Snapdragon 450 SDM450 (14 nm)
Qualcomm Snapdragon SDM450 (14 nm)
Octa-core, 1800 MHz, ARM Cortex-A53, 64-bit
Octa-core, 1800 MHz, ARM Cortex-A53, 64-bit
Android (9.0 Pie, 8.1 Oreo), LG UX UI
Android (10, 9.0 Pie)
Qualcomm Quick Charge 2.0, Qualcomm Quick Charge 3.0
Qualcomm Quick Charge 3.0
14.00 hours
the

average

is 11 h (660 min)
16.00 hours
the

average

is 11 h (660 min)
20.0 days (480 hours)
the

average

is 29 days (688 h)
14.6 days (350 hours)
the

average

is 29 days (688 h)
Single camera
Single camera
1920x1080 (Full HD) (30 fps)
1920x1080 (Full HD)
Picture-taking during video recording, Video light, EIS, Video calling, Video sharing
Picture-taking during video recording, Video calling, Video sharing
5 MP
5 MP
1920x1080 (Full HD) (30 fps)
1920x1080 (Full HD) (30 fps)
6.30 x 3.06 x 0.32 inches (160 x 77.7 x 8.1 mm)
6.3 x 3.06 x 0.33 inches (160 x 77.7 x 8.4 mm)
6.07 oz (172.0 g)
the

average

is 6 oz (171 g)
6.3 oz (179.0 g)
the

average

is 6 oz (171 g)
2D Face unlock, Fingerprint (touch)
2D Face unlock, Fingerprint (touch)
Notification light, Stylus
Notification light, Stylus