LG Stylo 5 officially launches in US, but only on one carrier for now
10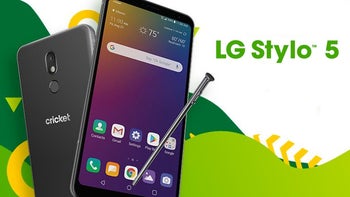 Seen in a couple of
leaked images
not long ago, the brand new LG Stylo 5 is now available to buy in the US, albeit only via Cricket Wireless (one of AT&T's wholly owned subsidiaries). Cricket is selling the LG Stylo 5 for $229.99 as long as you choose a prepaid plan of at least $30 per month. The carrier does not offer postpaid plans, so that's your only option if you want to buy this new handset right away. So, to reiterate:
LG Stylo 5 launches June 30, 2019
Similar to last year's
LG Stylo 4
, the Stylo 5 is a pretty large Android handset with a stylus pen and decent (but far from extraordinary) specs. The phone sports a 6.2-inch display with 1080 x 2160 pixels, runs Android 9 Pie and is powered by a "fast octa-core processor" of unknown provenience.
The LG Stylo 5 has 32 GB of expandable storage space, 3 GB of RAM, a standard 3.5mm headset jack, and a 3500 mAh battery. On the back, the device hosts a 13 MP camera and a fingerprint scanner, while the front includes a 5 MP wide-angle selfie camera. Thanks to the built-in stylus pen, the new phone offers features like Screen-off Memo (allowing you to seamlessly take notes without turning on the display), Pop Lens (for magnifying text), and Draw Chat (this lets you add hand-drawn notes and doodles to text messages).
You can purchase the LG Stylo 5
online here
, or in Cricket Wireless stores across the US. The smartphone is available in two color variants - platinum gray and blonde rose, the latter being exclusive to Cricket.
Since the LG Stylo 4 was released on most US carriers in 2018, we assume that the Stylo 5 will also be available via other wireless service providers besides Cricket, likely including some major ones.
Recommended Stories