Juniper sees 72% of touchscreen phones shipped in 2016 having no physical QWERTY keyboard
1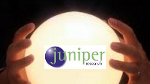 We recently
reported
that research firm ABI forecast that 97% of all smartphones shipped in 2016 will be a touchscreen model. ABI's work didn't breakdown touchscreen models into those that do or don't offer a physical QWERTY keyboard. With that in mind, we now pass along the results from Juniper's glazing into its own crystal ball. That firm was a little more specific in its survey and thus was able to conclude that by 2016,
72% of touch screen smartphones shipped globally will have no physical QWERTY aboard
. That works out to approximately 700 million units shipped 5 years from now, that will offer users only a virtual QWERTY keyboard. On the other side of the equation, 28% of the touchscreen models shipped in 2016-about 300 million phones-will offer a physical keyboard.
Juniper also estimated that by 2016,
80 million 3D-enabled smartphones will be shipped
, which works out to 8%. Just this year we have seen two stereoscopic, glasses-free 3D models hit the U.S. market with Sprint's EVO 3D and the LG Thrill 4G. The latter was just launched this weekend at AT&T, as we
informed you
.
Juniper also forecasts that the
global smartphone market will reach 1 billion units shipped in 2016
, up from the 302 million shipped last year. The research firm predicts that in 5 years, one out of every three smartphones shipped will be an "economy model" priced at $150 or lower. Juniper also expects to see smartphones that can change into tablets, portable game consoles and netbooks become more widespread.
source:
JuniperResearch
via
IntoMobile