By 2016, only 3% of smartphones won't have a touchscreen
45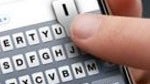 According to research firm ABI,
by 2016 a mere 3% of smartphones will be without a touchscreen
. Of course, that means that if correct, the study expects 97% of all smartphones to have a touchscreen of some type aboard. Part of the credit for the success of touchscreens on smartphones has to go to the Apple iPhone. In 2006, the year before the launch of Apple's iconic device, only 7% of smartphones had a touchscreen and that figure rose to 75% by 2010. ABI says that the touchscreen together with 3G connectivity are both responsible for the huge growth in smartphone users.
Today's touchscreen is a lot different than they were pre-Apple iPhone. Back then,
the typical touchscreen display was resistive
which meant that they responded to any pointy object that touched the screen. Even after the iPhone launched with its capacitive display, the next year or two saw many of the so-called "iPhone killers" come to market with un-responsive resistive screens like the one on the LG Voyager.
Resistive screens are pretty much extinct now
, replaced by the capacitive display which responds to electrical impulses on your fingertip and will not work with a stylus or a pen cap (which we recommended Voyager owners use to navigate around its external touchscreen).
Even BlackBerry phones are leaving the non-touchscreen smartphone design behind. The new BlackBerry Bold 9900/9930 took one of the most loved BlackBerry form factor, one with perhaps the best physical QWERTY keyboard ever placed on a smartphone, and added touchscreen functionality to its 2.8 inch display. As we
reported
, RIM recently added two more touchscreen models to its lineup with the BlackBerry Torch 9810 and the BlackBerry Torch 9850/9860. Even the lower priced BlackBerry Curve line is
getting a model with a touch screen display
. And the
early word
from sources says to expect RIM's lineup of QNX powered Superphones, expected to launch during Q1 of 2012, to be touchscreen models without a trackpad in sight.
source:
MobileBurn