Jefferies lowers its estimates of Q4 postpaid net additions for Verizon, AT&T and Sprint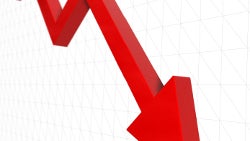 Wall Street securities house Jefferies has cut its fourth quarter postpaid net addition estimates for three of the largest carriers in the U.S. For example, Jefferies analysts now expect Big Red to have added 786,000 new postpaid customers in the three month period that ended last month. Previously, the trading house was expecting Verizon to add 943,000 postpaid subscribers in Q4. Postpaid churn is estimated to be 1.03% for the period, unchanged from the earlier forecast.
Jefferies revised its AT&T numbers down by a larger percentage. It now sees 315,000 postpaid net adds for the carrier during Q4, down from the previous estimate of 449,000. Postpaid churn will rise 1 basis point to 1.17%. Jefferies blames the weak quarter on AT&T's decision to focus on selling bundles with DirecTV. Jefferies sees the carrier losing 250,000 handsets in the period thanks to subscribers dropping feature phones, along with the shuttering of its 2G network. Despite all this, the securities firm raised its Q4 earnings estimate to 65 cents a share thanks to non-operational changes.
Two weeks ago,
T-Mobile released preliminary results for the fourth quarter
. The 933,000 gain in postpaid phone subscribers reported early by T-Mobile "is in line with expectations," according to Jefferies. And ARPU (Average Revenue Per User) is forecast to rise 1.8% sequentially from the third quarter to $48.89. As far as Sprint is concerned, Jefferies lowered its prediction of net postpaid additions to 410,000 from 430,000, and raised its forecast of fourth quarter churn to 1.62% from the previous 1.57%.
"We tweak our estimates (for AT&T) to better reflect 2G shutdown pressures and seasonality of NFL costs; however, we modestly improve our 4Q EPS estimate, to 65 cents, due to non-operational changes. We lower postpaid net adds to 315,000 (from 449,000), predominantly due to lower gross adds (we raised postpaid churn 1 basis point to 1.17%) as the emphasis on wireless-DirecTV bundles throughout the quarter likely limited some traffic; embedded in our forecast is a loss of 250,000 handsets, which continues to be influenced by the feature phone base and the recent shutdown of the 2G network."-Jefferies
The four major U.S. carriers should start reporting their Q4 numbers soon.
via
FierceWireless