J.P. Morgan's Hall sees Apple's 10th anniversary model launching on-time, priced at $1,100
63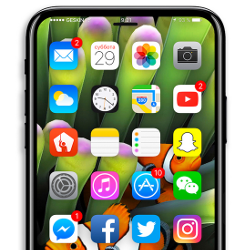 Just the other day, securities house Morgan Stanley sent out a report to its clients stating that
the launch of the Apple iPhone 8 could be delayed to the first half of 2018
. Katy Huberty, Morgan Stanley's highly regarded Apple analyst, has predicted delays in the launch of the phone due to problems with the manufacturing yields on the screen and camera. Also causing a possible delay in the launch of the handset is the huge question mark that continues to hang over the device: where will Apple place Touch ID?
There have been three different possibilities. Plan A, of course, was for Apple to embed the fingerprint scanner right under the glass. This would allow the
iPhone 8
to carry an edge-to-edge display without any buttons to press on the front of the phone. The second possibility, or Plan "B," called for a rear-facing Touch ID button to be placed on the back of the iPhone 8. This might be the one option that no one liked.
After a render showed a rear-facing Touch ID button
for the iPhone 8, the response was rather negative. Plan "C" was recently was launched as a trial balloon to see if consumers would keep it afloat. This plan would eliminate Touch ID altogether from the iPhone 8, and focus instead on a 3D scanning camera that would use face recognition to unlock the phone and provide identity verification.
J.P. Morgan analyst Rod Hall has a much different take on things. He says that the iPhone 8, which he called the Apple iPhone Pro, will launch on time although it will be available in limited quantities at first. By late October or early November, Hall says that Apple will be up to speed on iPhone Pro production. The analyst also raised his pricing forecast by 10% to $1,100 per unit.
"Importantly, we do not believe that Apple's production schedule is still changing materially with most current delay reports simply dated reverberations of decisions Apple made back in the spring. We expect a small amount of late September EMS [electronics manufacturing service] output for the Pro model and then ramping production through October with target output levels achieved in late October/early November."-Rod Hall, analyst, J.P. Morgan
source:
CNBC