It's officially a tablet: Wi-Fi only Sony Xperia Z Ultra on sale in Japan
15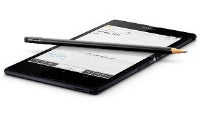 From the first time we heard about the
Sony Xperia Z Ultra
, it was seen as a device that was clearly pushing the boundaries of the term "phablet". Most phablets haven't attempted to go much higher than 6-inches, but the Xperia Z Ultra features a 6.4-inch display and its footprint looks closer to a 7-inch tablet than a 6-inch phablet. Now, the device has officially gone over to the tablet world.
There had been rumors about Sony prepping a Wi-Fi only version of the Xperia Z Ultra, and it has become a reality. The Wi-Fi only model of the device will officially go on sale in Japan this Friday, January 24th. The device will sell for ¥52,000 (~$499), and it won't be alone on shelves. Sony has also launched an LTE-enabled version of the device on Japanese carrier KDDI.
The tablet version of the Xperia Z Ultra features all of the specs that you'd expect, including the noted 6.4-inch 1080p display, a Snapdragon 800 chipset, 2GB of RAM, and an 8MP rear camera. Of course, one thing that made the device feel more like a tablet than a phablet was that alongside that 8MP camera, there is no flash on the device, which is something of a disappointment.