It is real: a hands-on with the Essential Phone, presented by Andy Rubin
12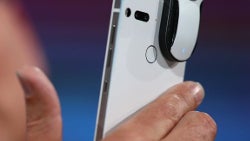 So, the
Essential Phone
was just revealed yesterday and it has some cool things going on about it. Titanium and ceramc build, a 360-degree accessory camera, an all-screen front, so on and so forth — it's definitely a head-turner. But we didn't get to see any live footage of the handset, just renders.
Today, Essential founder Andy Rubin sat down with Recode to show and talk about the product he is so proud of. He discusses the titanium build, the magnetic connector on the back, why the Essential modules might be better than the
Moto Mods
, the 360-degree camera, and other tidbits.
It's interesting to note that the two Essential Phones that Mr. Rubin pulls out actually have different finishes. While the black one is a super-shiny fingerprint magnet, the white one is actually matte! This means that if you are tired of the fingerprint smudges on shiny devices, Essential will give you the choice of going for a non-glossy option. Unfortunately, it's still not clear which colors would have the soft, non-reflective finish.
The full interview is available at the Recode page, linked in the source — you can check it out to hear Mr. Rubin talk about the new phone, the camera, the slowdown of innovation in mobile technologies, and the universally "loved" bloatware.