Motorola promises to launch 12 new Moto Mods this year
3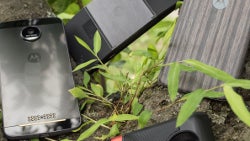 No matter which brand and model of smartphone takes your fancy, there's a good chance that dozens of similarly-equipped alternatives are also vying for your eyes (and cash). With such a plentiful supply of choice, a number of the market's manufacturers have sought to bring radically new and unique ideas to the table. Last year, for instance, both
LG
and Motorola presented rather contrasting takes on handsets with swappable hardware components. But while
LG's successor to the G5
may forgo modular capabilities after a lukewarm response to the current model, Motorola's Moto Mods movement has only just begun.
Motorola launched a handful of Mods alongside the Moto Z series smartphones in 2016, and has since taken a real interest in fortifying the ecosystem. The firm has held a series of competitions for designers looking to innovate and create their own Mods -- an effort that has spawned some
very promising concepts thus far
.
It's not uncommon for firms to throw an idea against the wall before swiftly abandoning ship. But Motorola is guaranteeing a dozen new Moto Mods for release in 2017, which will afford Moto Z users a steady supply of options. The new assurance of 12 Moto Mods is a slight drop on the four-per-quarter forecasts Motorola has made before now. Nevertheless, we're still excited to see what's in store.
Specifics are scarce for now, so there's no telling what kinds of perks will be offered by the upcoming fleet of Mods, or when they'll arrive. But Motorola has also confirmed that it will retain the Moto Mods project for at least three years, which should help to encourage more consumers and developers to take the plunge and invest in the idea.
With more cargo on the way in the near and more distant future, would you consider acquiring a Moto Z? Let us know in the comments below.