Incredibly lifelike Stormtrooper helmet mini portable speaker plays tunes for the Empire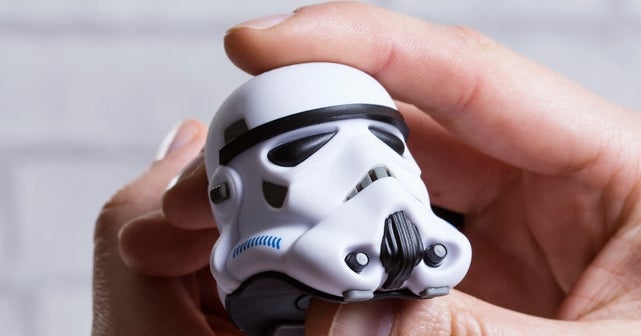 It is tiny, though.
Always count on Firebox to deliver something fresh and individual to the gadget realm! The cool stuff shop has this incredibly authentic mini Stormtrooper speaker that seems able and ready to defend the Empire from the Republic scum by blasting tunes from its 2W driver. It's not surprising that the Bluetooth speaker looks so true, for it is actually modeled from an original Stormtrooper helmet prop dating from 1976. Hence why it looks a bit different from the helmet you probably know best.
Like any self-respecting portable speaker, this one too has a bundled microphone, so the Emperor's forces can coordinate their attacks – or, you know, receive hands-free phone calls. What's more, the power button acts as a shutter key for selfies taken at a distance, which is a convenient bit of functionality you'll rarely find on a speaker. The battery can last for up to four hours straight with its integrated battery, which is within the realm of the expected.
At $32 (£24.99), the Stormtrooper speaker is surprisingly affordable, considering Star Wars gear can fetch sky-high prices and still sell. Unfortunately, it's too tiny for you to be able to wear it over your head. You'll have to buy an actual helmet for that, and these could cost an Imperial worker's yearly salary.
Furthermore, the speaker ships from the United Kingdom, so factor in a few dollars and some waiting time before you order. Hopefully, the Force will be strong with your purchase and it will arrive on time.
ALSO READ