Images show that the super-weird BlackBerry Passport renders apps just fine, despite its square display
35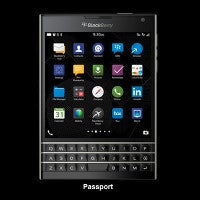 The BlackBerry Passport is one super-weird device, if we so say ourselves. And it's not because of some major discrepancy between price and specs, or anything along those line, but, rather, because of the way it looks. In case you didn't know, the Passport literally looks like a square. We should expect so, of course, considering that it's one of the few smartphones ever made with a square (1:1 aspect ratio) screen. It honestly just looks awkward, at least from what we've seen so far.
But even if you're willing to stomach the upcoming Berry's funny look, practical considerations like how well will apps scale, are not to be ignored. Even if you're crazy about physical QWERTY keyboards. Indeed, we've been pondering over that for a while now, but it appears that all that mental energy was wasted for nothing. That, at least, is what a new set of photos, showing the Passport running two different apps, indicate. As you can see for yourself below, the non-traditional (to put it mildly) aspect ratio doesn't seem to mess up apps' look, and there's no ugly letterboxing or anything. So no worries there.
An exact launch date hasn't been announced, but the company has made it clear that they're aiming for
a September unveiling in London
. Price, similarly, remains unknown.