IDC: Apple iPad's market share drops under 40% in Q1
34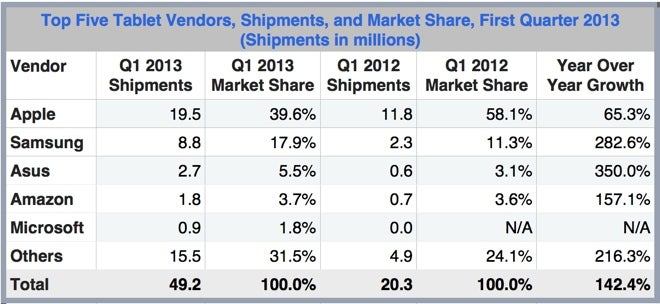 The Apple iPad lost ground in the first quarter
According to the latest survey from IDC, the Apple iPad
lost market share
during the first quarter of 2013 in the global tablet market, despite a decent gain in the number of units shipped year-over-year. At the end of the first quarter, the Apple iPad represented 39.6% of global tablet shipments which is a rather sharp decline from the 58.1% market share that the device held at the end of last year's first three months. The actual number of iPads shipped rose to 19.5 million units from 11.8 million last year. That 65.3% gain was overshadowed by the 282.6% gain in tablets shipped during the same period by Korean manufacturer Samsung. Sammy finished second to Apple with 17.9% of the global tablet market after the first quarter, up from the 11.3% slice of the tablet pie owned by the company last year. In terms of actual units shipped, Samsung transported 8.8 million tablets, up sharply from 2.3 million last year.
ASUS finished third with a 5.5% share of the global tablet market, thanks to a
350% increase
in shipments over the year. Amazon and Microsoft round out the top five with 3.7% and 1.8% of the market respectively.
Just yesterday, BlackBerry CEO Thorsten Heins said that
the tablet market is terminal, giving the product just five more years to live
. But overall, tablet shipments in the first quarter rose over 142% year-over-year to reach 49.2 million units.
source: IDC via
AppleInsider
Recommended Stories