Huawei's Glory 3X Pro sports a faux-leather back that screams "Samsung!"
30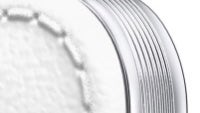 It seems Huawei has caught Samsung's faux-leather aesthetic, as the Huawei Glory 3X's purported successor was photographed donning a faux-leather back - stiching and all. This is a look we're accustomed to seeing in some of Samsung's devices like the Galaxy Note 3 and the Playbook, and one that was yet to be "cloned" by other big-brand manufacturers. While Huawei surely won't win any points for originality, at least its take on the faux-leather styling is well executed. Note how carefully the back panel is cut to accomodate the camera, flash, and speaker grill.
Samsung-inspired looks aside, the alleged Glory 3X Pro will feature a 5.5-inch 1080p display, a MediaTek MT6592 octa-core CPU, 2GB RAM, 16GB of storage, a 13MP rear camera and a 5MP front cam. The price in China is suggested to reach the equivalent of $272 (1699 yuan).
So - what do you think? Should Huawei be worried of this phone being constantly compared to Samsung, or like the old saying goes, there's no such thing as bad publicity?
Recommended Stories