Huawei's AI Cube is a smart speaker and internet router all in one; it is not a cube
2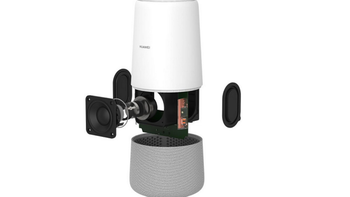 This morning at IFA, Huawei unveiled its first smart speaker. Featuring virtual personal assistant Alexa, the Huawei AI Cube (which doesn't resemble a cube at all) looks similar to other smart speakers although it does have a secret inside; the device doubles as a an internet router. Thanks to Alexa, AI Cube owners will be able to use the product to control smart appliances, set timers and alarms, stream music, hear the news, get the latest sports scores and weather. The digital helper has many "skills" that can be helpful to those purchasing the AI Cube.
Huawei's first smart speaker is arriving late to a tech category that has seen tremendous growth ever since Amazon launched the first Echo unit back in 2015. Since then, other tech firms like Google, Microsoft and Apple have created their own versions of the product featuring virtual assistants like
Google Assistant
, Cortana and Siri, respectively. Amazon has had the top market share since the category was created, although
one report had Google taking the top spot during the second quarter
. IDC sees sales of smart speakers rising to $17.4 billion by 2022 from the $4.4 billion rung up last year.
The Huawei AI Cube will be released in Europe in time for the upcoming holiday shopping season. Pricing has yet to be announced, and at this point it isn't clear whether the AI Cube will be making its way to the U.S.
source: Huawei