Huawei drops some teaser pics of the Ascend D1 Q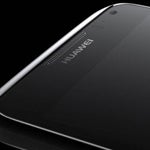 With MWC approaching fast,
one anticipated announcement is the Huawei Ascend D1 Q
. The Android-powered handset is expected to house a quad-core Tegra 3 CPU and is being touted by Huawei as the "fastest smartphone yet."
In its efforts to keep the hype up, Huawei's marketing team dropped a set of teaser images via China's Twitter-esque service, Weibo. While it doesn't immediately appear that anything groundbreaking in the world of phone design is occurring here, the device does appear to sport a clean, slick figure.
While Huawei is known for cheaper, entry-level devices, they are well established in the value category. It is definitely interesting to see Huawei's full-court press into the premium Android device category. We will have to wait until all the specs and pricing information is released in order to attempt to predict how well Huawei will stack up against leaders in the premium Android sector such as Samsung, HTC, Sony, and Motorola, but so far, it is looking good for the Chinese manufacturer.
source:
Techorz
via
UnwiredView