Huawei Vision gets the spotlight in this promo video
9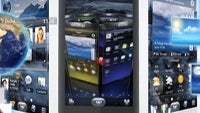 The 3.7-inch Huawei Vision aims to bring the best of both worlds – stylish body flavored with Gingerbread on the software side and an affordable price tag. It's not cutting edge in terms of pure specs and you wouldn't expect this from Huawei just yet, but it covers all the bases and aims to make an entrance in cloud sharing with Huawei's upcoming Cloud+ platform. The phone has now got its own promo video which depicts all the beauty of Huawei's own 3D-esque interface running on top of Android 2.3, but it's worth watching for one more reason – the refined looks of the handset.
Under the hood of the Huawei Vision, a Snapdragon chip roars in with 1GHz of clock speed, while 512MB of RAM back it up. In addition, the 5-megapixel LED flash-equipped shooter on the back is capable of recording 720p HD videos. In terms of connectivity, you're also well covered with Wi-Fi b/g/n, Bluetooth, microUSB and support for microSD cards of up to 32 gigs.
The Shenzhen network equipment maker is set to make a strong stand with the Vision – it plans to sell more than a million devices when the phone starts shipping in September. The US launch date however wasn't yet announced. Don't expect this to be among the cheapest Androids though - with a price tag of no less than $305 off contract, it aims to compete with plenty of mid-range offerings. Does it have what it takes to succeed? The phone has just cleared the FCC, so it's one step closer to getting released, but in the meantime feel free to share your thoughts in the comments below.
source: Huawei via GSM Arena