Huawei Mate 20 Pro in turquoise shows up alongside Mate 20 and Huawei Watch GT
9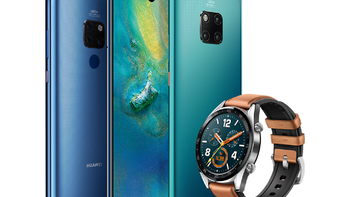 Over the past month there has been a constant stream of Huawei Mate 20 leaks and, while there may only be five days left until the official unveiling, today is no different. In fact, after recently posting an image of the
Mate 20 Pro Twilight variant
, Evan Blass is back with a new render that showcases Huawei's entire range.
Looking at things from left to right, the first device pictured is the
regular Huawei Mate 20
from the rear. This specific version is the upcoming Blue variant which seemingly includes a slight texture below the glass, as revealed previously. Interestingly, though, this image reveals an accented red stripe around the power key. Alongside the rear image of the Mate 20, a front render of the smartphone is also provided.

Next to the flat-screened model, the rear of the Huawei Mate 20 Pro is also pictured. Previous images of the smartphone have revealed black, blue, and Twilight colors, but in this particular image, the Mate 20 Pro is pictured in green. Despite the name, the color looks more like a shade of turquoise and is a far cry from the Emerald Green rival that was expected. Regardless of this, the power button adopts an orange tone.
Lastly, the Huawei Watch GT in what appears to be the Classic finish is visible. This wearable, unlike previous products, will ship with a
new proprietary OS
developed by Huawei. Also, it will swap out the
Snapdragon
Wear 3100 ARM Cortex-M4 based chip. This will allow for a whopping 14-day battery life.
As mentioned time and time again, all of these products are set to go up for pre-order shortly after next Tuesday's event and should begin shipping towards the very end of October or the beginning of November.