How to restore your Motorola DROID RAZR M back to stock ICS from the JB leak
23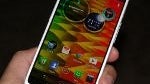 Last week we informed you that there was a Jelly Bean leak for the Motorola DROID RAZR M. Installing the zip file is pretty straight forward (file and instructions found
here
), but at that time there was no way to revert back to stock Ice Cream Sandwich if you wanted to - until now.
Keep in mind when doing any of this flashing, that you will lose all your apps, data, and settings on the phone, so you'll have to reinstall those.
If you are running the Jelly Bean leak (version 98.11.35) and want to revert back to stock Ice Cream Sandwich (version 77.111.10), you'll need to do the following......
First off is to make sure you have the Motorola USB drivers installed on your PC (download here). Then the current version of RSD Lite 6.1.4 installed (from here). And lastly the full fastboot Ice Cream Sandwich recovery file 648MB (from here).
After that, you'll run the RSD Lite program.
Make sure the phone is off. Press-and-hold the Volume Down and Volume UP and the Power button at the same time until there is a menu shown with white text. Quickly use the Volume Down to highlight AP Fastboot and then press the Volume UP to select it. You have to do this fast, or the phone will restart.
Once your phone is in the Fastboot menu, connect the phone to the PC.

Select the phone XT907 listed in the first line in RSD Lite, and its information will then show in the Device Properties screen.
Click on the "..." next to the Filename and select the ICS file you downloaded: VZW_XT907_4.0.4-7.7.1Q-144_SMQ_S1-36-10_CFC.xml.zip
Then have it decompress the zip file and start the flashing process. Once it has completed, your Motorola DROID RAZR M has been fully restored back to original ICS software that came with the phone.
Thanks to everyone for the files and help (you know who you are)!